360 Media Group Ltd | Your catalyst for market growth in automotive, through insight and thought leadership
We support leading vehicle manufacturers, leasing companies and fleet service providers to make better informed sales and marketing decisions. Our unique market data and exclusive database of UK fleet decision-makers provide exceptional insights into the shape, structure, buying processes and future intentions of the fleet sector.
We conduct in-depth surveys, apply expert analysis and deliver forecasts for key industry trends.
Find out how we can support your business objectives.
25 Top Tips Guide to Electrify Your Fleet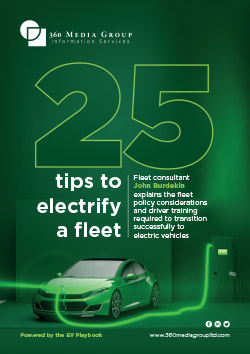 The 25 Top Tips Guide to Electrify Your Fleet is packed with practical advice on the business case for EVs, changing driver mindset, charging, range optimisation and FAQs, produced by Ian Richardson and Jon Burdekin 🚘 Fleet Consulting this is a FREE resource available to the 360 Media Group community.
Ensure that you have registered to join the website to access other FREE resources including training videos and product reviews.
How We Do It
360 Media Group brings together the complete supply chain in fleet, transport and mobility.
Through regular surveys and bespoke research projects we generate robust evidence of business purchasing behaviours, operational pain points and companies' short, medium and long-term priorities.
We conduct 300 in-depth interviews with fleet decision-makers on a quarterly basis, measuring 40 KPIs and also run a monthly omnibus survey which clients can ask their research questions, generating 100 respondents each month.
And our thought-leadership programme delivers trusted expert advice to our community of fleet, travel and transport buyers through webinars, social media and events.
360 Media Group specialises in:
Quantitative and qualitative research
Analysis of market composition and segmentation
Identification of product and service trends
Insights-on-demand based on our database of hundreds of KPIs from thousands of respondents in our 360 Knowledge Bank
Benchmarking data
Best practice advice
Research panel of decision-makers
Delivery of benchmarking data, best practice advice and events to our research panel of decision-makers
Unparalleled access to large fleets – benchmarking your client coverage vs. the TOP 1000 fleets!
Direct access to the fleet, travel and transport markets, via our 7,000+ social media followers
EV Forums monthly webinar series, where fleets and suppliers discuss the rapid transition to electric vehicles
The Green Rooms Masterclass series of education on electric vehicles
Organisation and hosting of co-branded events with leading trade bodies.
Opportunities exist to access marketing bandwidth, increase reach, benchmark brand health, access insights on-demand, boost PR, educate customers, create sales collateral, consume training videos and partner on thought-leadership